Clients Crushin' It: Carla Albano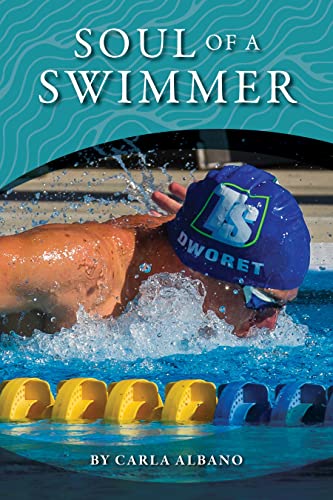 Madison Utley speaks to Carla Albano upon the release of her first book, Soul of A Swimmer, in which she tells the true story of Nicholas Dworet, a champion swimmer from Florida whose life was tragically cut short in a school shooting. While Carla first heard Nick's name in relation to the devastating news, it became clear there was a much more complex story to tell about the young man's life and legacy after speaking to his family, friends, coaches, and teammates. In this book, Carla describes the lifelong process of nurturing a child who has extraordinary talent and the drive to put it to its best use. 
Q: How was it that you ended up involved in getting Nick's story onto paper?
A: The project is a little unorthodox, I know. When Nick passed away, I had just restarted my swimming career. Swimmers are all connected by a love of water; there's a real community there. And so faced with the fact that we lost one of our own—meaning a fish, a swimmer—I felt like I needed to do something positive, as part of our community grieving and as part of my own grieving. 
Initially, I decided I wanted to write an application for Nick to be admitted to the International Swimming Hall of Fame, but as I started to compile what I needed for that, I got to know his coaches and all these other people in his life. It wasn't long before I realized: "Holy cow, this is bigger than an application. This is such a great story." The more I learned about Nick, the more inspired I felt to write a book. I was exhausted by hearing about all of the bad things about mass shootings and body counts, but never knowing anything about who these people we lost are. And so, I decided I wanted to write a biography of this boy who was a champion swimmer, and one of my kind. 
Q: How did your previous experience prepare you for this endeavor? 
A: During this process, I was able to call upon my own experience growing up as a swimmer while interviewing Nick's friends, teammates, and coaches. I feel like that gave me instant rapport with the subjects who in turn gave me the material I used in the book. I even went on swims with some of them after the interviews were over, which was really bonding.  
As for the writing itself: good swimmers know that they need to have a good coach, so I started with Stuart from the very, very beginning. Given that it's my first book, I had no perspective on how to structure my thinking or how to put the material together. Stuart was amazing from the start; he didn't tell me what to do or how to write, but instead he helped direct my voice through this process and guided me towards where I needed to go next. We had a lot of dots to connect and I'm so grateful to Stuart for helping me with that. I wouldn't have been able to get the message straight or tell the story the way it needed to be told without him. 
Q: Tell me more about your experience interviewing the people in Nick's life. 
A: I believe this project was very healing. For many of the young adults that I interviewed, Nick's friends and teammates, this was the first opportunity they were given to speak about him in a positive way, outside of the circumstances of his death. So it was a hard process, but one they thanked me for. They shared a lot of really intimate stories with me—such great, happy stories. And that's what I wanted to focus on, the bright and the good; I felt it was my mission to keep this boy alive.
Throughout the process of writing this book, I started to think our community is scarce on mental health/counseling resources. It seems people might not get the outreach they need to be guided towards help, so it was special to be part of this process. I'm actually still in contact with a lot of the kids that I interviewed. They've become part of my life and vice versa. They view me as a safe person to share their grief with.
Q: Who do you view as the primary audience for this book? 
A: Swimmers of all ages, young adult athletes, parents of athletes… The story is about how to cultivate and nourish a talented child, whether they are academically or athletically gifted. This book describes the process of identifying talent and helping encourage young people to get motivated and push towards their dreams. I truly hope that readers are shown what a family and what a community needs to do when they are entrusted with a talented child.