Stuff We Love: Read This if You Want to Be A Great Writer
Writers of craft books on writing still read craft books on writing. It would be dangerous to think you know everything. Of course, it's easier when that book is published in the UK. There's not so much competition.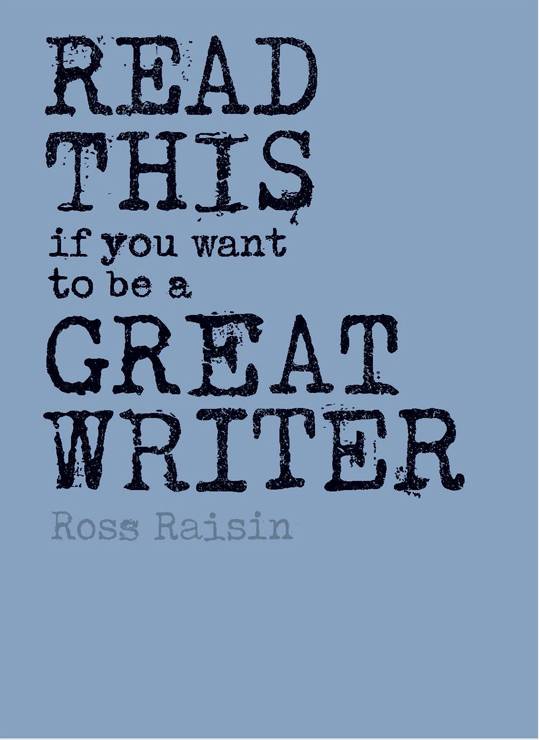 Or maybe I'm wrong. Have you heard of the book Read This If You Want To Be a Great Writer by Ross Raisin? The title is pretty sales-y, although I hear aspirational marketing works wonders. (For the record, I did not come up with the title, Blueprint Your Bestseller, either.)

Then I found out that what's they call all the books in the series, Read This If… you want to be great at drawing, at taking photographs, etc. I was contemplating the move to writing my first fiction in thirty years. I better buy a book.
Broken into roughly sixteen categories, ranging from Place to Sex to Planning, I learned new things throughout. I also felt empowerment to apply what I already knew across the looming bridge from creative nonfiction to made-up storytelling. 
But hey, that's my process. You will have your own experience of this book by the British novelist, Raisin. To entice you further to buy it (note absence of affiliate links), here are a few of my favorite quotes:
"The plan you drew up at the end of your first draft will have more value than any plan you make before the first draft."
"If you are stumped for the point at which to enter the narrative it may be helpful to forego, for now, an adherence to writing in a linear way from beginning to end."
"Some works of fiction that play with preconceived notions of what fiction is supposed to look like can be so compelling that they create their own market. When form is bent to something new, your previously programmed way of reading a text can be, too."
I think I realized that — as perhaps is true in all genres — it is the voice that beckons to us first. Ross's expertise is combined with his confidence and warmth to make it feel like it is not such a cold world. I recently heard from one of my readers, "I just read your first book and I'm on your second book. I just wanted to let you know that I loved the graphics, humor, and voice. As I read, I felt as if a real person was talking to me and explaining the process. Most books I've read thus far have yet to have that same effect…"
I mean, that's why we write craft books. It doesn't send the kids to college. But maybe it helps a few lifelong learners along the way.